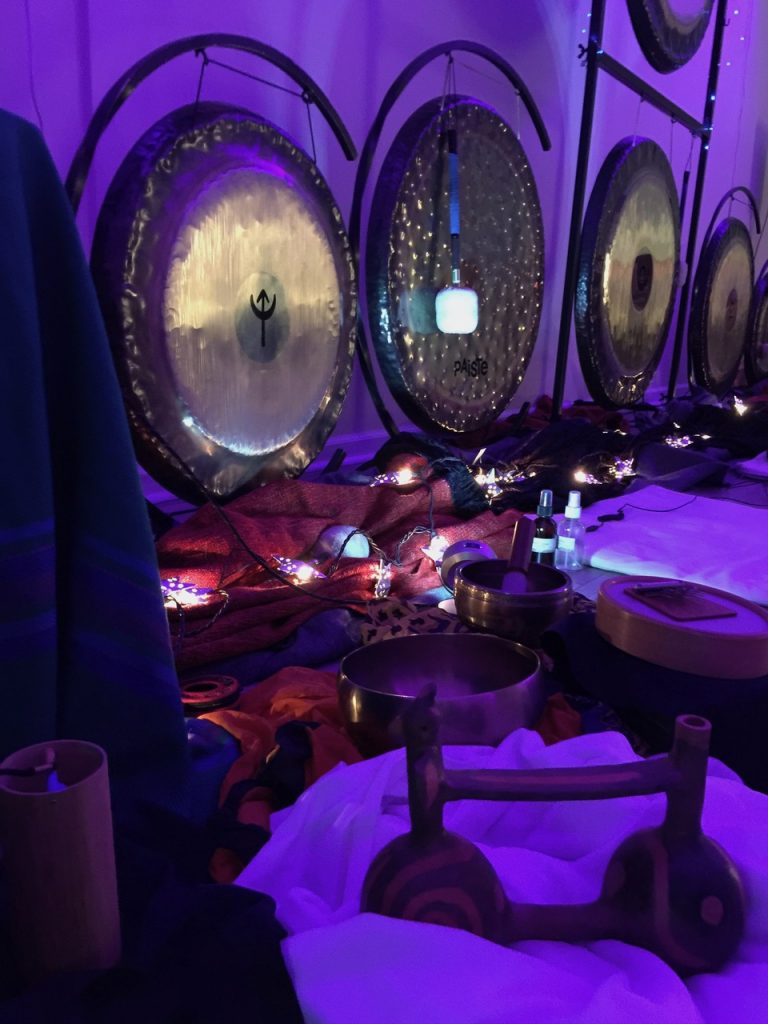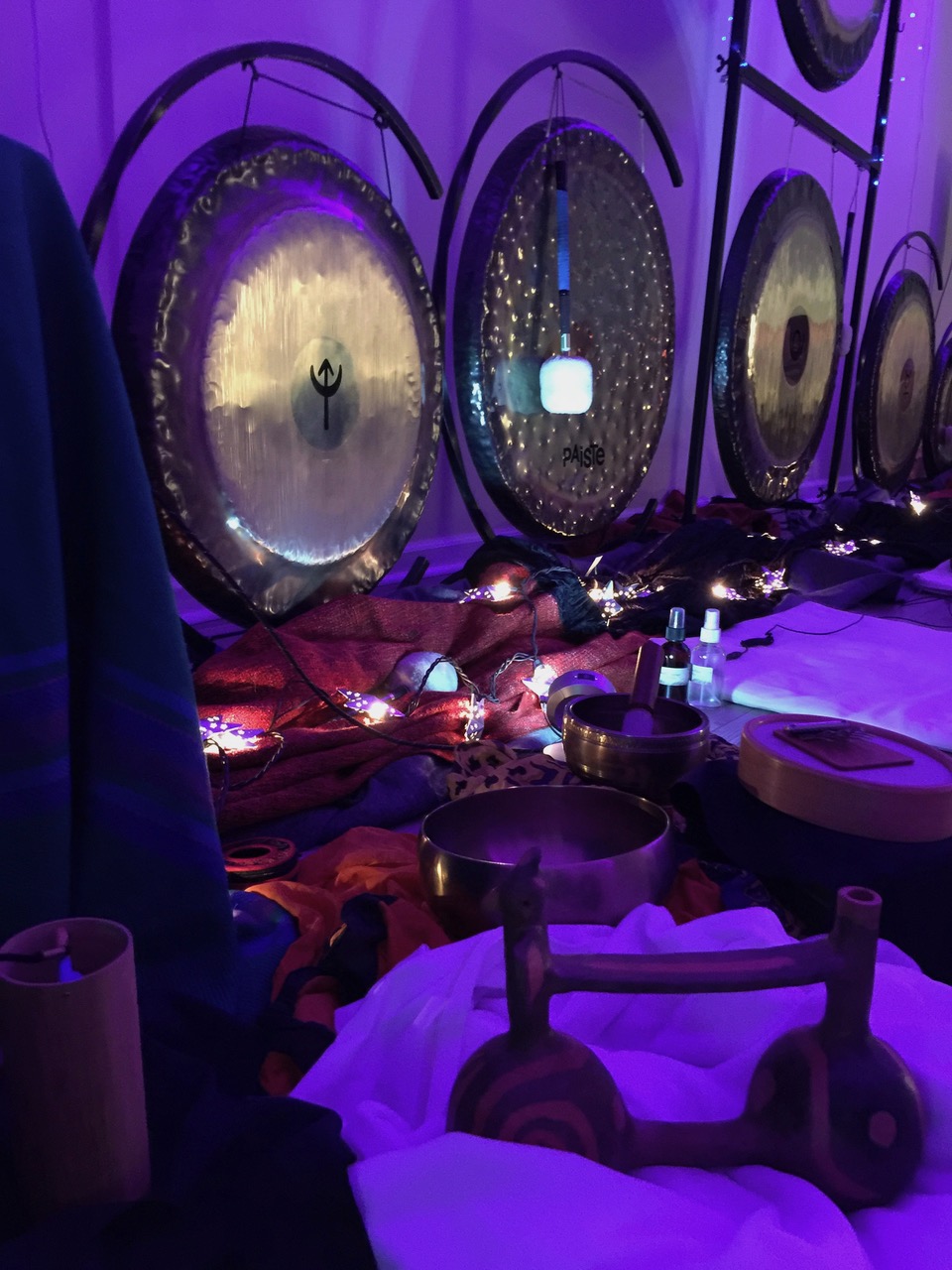 Sunday Sound Sessions  2020
(On Select Sundays)

Upcoming Sessions
February 9th, 2020-Full Moon Session
Note: Gong Immersion on Friday March 6th
Note: Signing up for the newsletter is best way to find out about these events.  They are announced in the newsletter and on the Monday prior to the next Sunday Sound Session.  These are spontaneous and relate to the Vedic astrology of the week. No pre-registration required on Sound Sessions.
(Gong Immersion: Pre-registration highly suggested)
Location:
Ginseng Yoga
2985 Beech Street
San Diego
South Park Neighborhood
Give yourself an extra 5-10 minutes to park and settle in
60 minute session-$20 (Chil­dren under 12 are $10)
Time: 6:45 pm-8:15 pm
Cash Only-Ginseng Mem­ber­ship not valid
All ages welcome-Silence is required
There is no pre-registration for Sound Sessions-Cash at Door only.
For Gong Immersion pre-rregistration is highly suggested
Sound Ses­sions are designed for open­ing block­ages, neu­tral­iz­ing ten­sion and increas­ing the heal­ing poten­tial of the human body. Each session embraces the sound tech­nol­ogy to attract pro­tec­tive and guid­ing light that is gen­er­ated by our solar sys­tem. Each planet rep­re­sents a dif­fer­ent energy and vibra­tion based on its move­ment around the Sun.
Each gong has a unique vibra­tion that initiates and trans­forms the energy vor­texes of the body to open ener­getic free­dom and heal­ing. When we have ener­getic free­dom we feel alive and Joy­ous while attract­ing the peo­ple and things that serve our pur­pose in life.
Sacred sound healer Dhyanjot uses Vedic Astrology to tune into the planetary alignments to create the intention and gong arrangment for each session.  Each gong ses­sion will have 5–8 gongs, 11 minute Med­i­ta­tion, aro­mather­apy and other sound heal­ing instruments that fit the astrological arrangement perimeters.
Each session will include some of the fol­low­ing gongs: Pla­tonic Earth rep­re­sent­ing expe­ri­ence, clar­ity and pur­pose; Venus rep­re­sent­ing love, friend­ship, joy, and abun­dance; Nep­tune rep­re­sent­ing imag­i­na­tion, cre­ativ­ity, com­pas­sion, and height­ened aware­ness; and ele­men­tal earth rep­re­sent­ing bal­ance and pro­tec­tion; Special gong guests may include:  Chi­ron; Mars, Nibiru, Earth Year, Moon, Sun, and Jupiter. Other instruments may include ethereal flute, singing bowls, hand pan, isochronic beats, wind gongs, specialty chimes, bells, harmonium, rattles,
What to expect: Sign in, review inten­tion, then enter room qui­etly and choose a spot to lay down. There will be no talk­ing dur­ing or in the heal­ing sound ses­sion room.  Please keep cell phones turned off as it may immersion.
What to wear and bring:  Wear comfortable clothes for meditation and laying down comfortably for about 45 minutes.  Bring a yoga mat or blanket, eye pillow, or anything that will make you feel more comfortable.  Most importantly come with an empty and open mind.
Note:  Sunday Sound Sessions are different than gong immersions in that they are shorter more personal experience rather than a longer, more choreographed gong immersions that may include up to 14 gongs, special lighting, special effects and a few more instruments of sound healing.  Sunday sound seesions are designed to help you decompress after your weekend and reset your body and mind for the upcoming week.
Learn more about Gong Immersions, Sound Sessions, and Privates
Hi, I'm Dhyanjot. This website offers information into my yoga classes, sound & light heal­ings and mas­ter­ing life ses­sions designed to help peo­ple live pain free, pros­per­ous lives.  In addition, I facil­i­tate nutri­tional health cleanses, vibra­tional heal­ing work­shops, gong immer­sions for deep heal­ing and I am avail­able for holis­tic health and life coach­ing.
© 2012 Integrated Wellness SD / JotYoga.