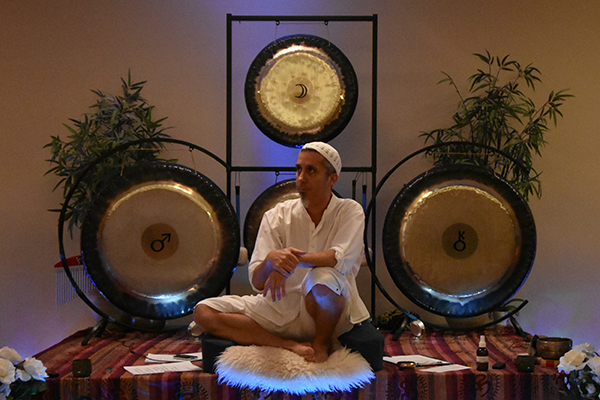 Gong Certificate Program:
Level 1 Gong Player (Gong 101 Certificate): Learn to play the gong in three short– 1.5 hour ses­sions
$450-three sessions-Onsite only-*These lessons have helped many who have been intro­duced to gongs in a group les­son take their play­ing to the next level
Level 2–7-Gong Alchemist (Cer­tifi­cate Pro­gram):  Learn advanced tech­niques, med­i­ta­tions, and using the gong in your classes or as a sound healer. Each level is $499. Each level has three or four pri­vate 1.5 hour lessons. Level One required. If you have basic gong play­ing and tech­nique then you may be eli­gi­ble for Alchemy train­ing. You are required to take at least one level 1 class for $108 to be opt out of level one before mov­ing onto level 2–7.
Level 8–11-Gong Mas­tery (Advanced Cer­tifi­cate Pro­gram):  Learn how to cre­ate heal­ing ses­sion, mul­ti­ple gong sound ses­sions, and Gong Immer­sions.  Also learn tech­niques for using the gong for all heal­ing modal­i­ties includ­ing Reiki, Heal­ing Touch, and Sat Nam Rasayan, Gong Alchemist  is a pre-requisite.
*spe­cial dis­counts apply to gong pur­chases when you are a gong les­son stu­dent
*Gong stu­dent may get an oppor­tu­nity to play dur­ing gong immersions
10 Day immersion-Private Gong and Sound Healing Training
(1 week or 10 day consecutive day program great for out of town students)
Hi, I'm Dhyanjot. This website offers information into my yoga classes, sound & light heal­ings and mas­ter­ing life ses­sions designed to help peo­ple live pain free, pros­per­ous lives.  In addition, I facil­i­tate nutri­tional health cleanses, vibra­tional heal­ing work­shops, gong immer­sions for deep heal­ing and am avail­able for holis­tic health and life coach­ing.
© 2012 Integrated Wellness SD / JotYoga.