Pillar of Light Sound Healing
with Sound Alchemist and Gong Master Dhyanjot
Friday May 22nd, 2020
7 pm-9 pm
Virtual Zoom




(Please arrive 10-15 minutes for Virtual Waiting room check in)




This is a special Zoom Event. Please sign up with zoom name for easy registration.  You will recieve email with password and meeting ID.  A zoom account is free, but you will need to create an account.  If you have not used zoom please open a free account and practice with a friend using pin and unpin and use of your volume with earphones.  If you arrive 10-15 minutes early then you will can get zoom tech support for the best results.  For any reason you are having trouble getting in then text tech Joel at 805-636-9364 starting at 6:30 pm. He will contact you in the order he recieves your text.  You may also ask a question during the first 15 minutes prior to the start and recieve assistance. So please leave yourself extra time to join prior to 7 pm start.  If you need personal attention then contact the phone number above from 6:30 pm-6:45 pm. Be sure to engage in chat room for pertinent information once you sign in and are in the waiting room.  You may be asked to clarify your user name prior to entry so be sure to be paying attention upon arrival to waiting room by opening the 'chat' stream.  Once you are in the sound healing portal there will only be one way communication with the group.  When I do a shared screen for sound purposes it will share a photo/video. If you want my screen large on your screen then you will need to pin my screen (look for 3 dots and tap or double tap my small screen).  My screen name to pin for event will be 'Virtual Sound Healer'.  'Dhyanjot support' will be the host and tech support prior to starting event.  The screen itself will only be important during the chanting and mantra at the beginning as the mantra will be displayed to read along if needed.   Having visual screen will also be helpful during the stress relief exercises prior to the sound healing journey.  Otherwise most of the experience will be sound and yoga nidra with the voice.  
For the highest quality experience, it is best to plug in high quality speakers and better yet use good head phones.  You will also need a comfortable place to lay down. Have blankets and anything else you need to be comfortable.  We will likely sit for a 15-20 minute meditation so have a nice chair or floor seat cushion to be comfortable for the beginning. The rest of the jouney will be laying down. This experience will be mostly sound with shamanic journeying so screen visuals and screen will not be that important for this experience.  I think you will enjoy it.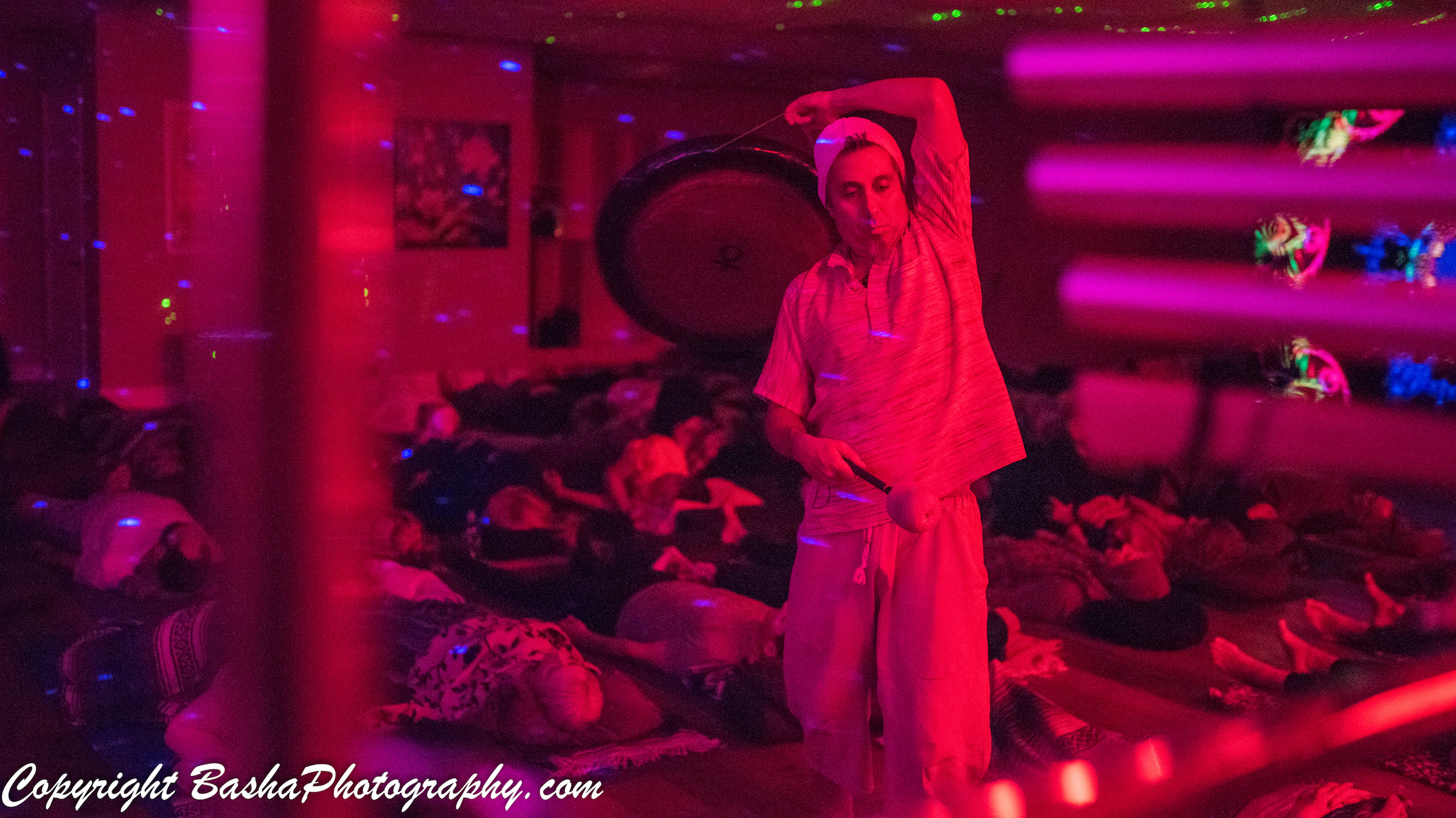 Come be uplifted
Come join me for an evening to relax and recharge and be uplifted by the support from the 'Pillar of Light' to help balance and harmonize your life.
The experience includes light movements to relieve stress, uplifting song, tune in, meditation, short yoga nidra and long sound healing. 
This is virtual sound healing to inspire you to energetically rise up in hope, to expand your magnetic field, and tap into your pillar of light that keeps you centered, connected to earth balance, and in harmony with life.  
Featuring a special virtual appearance of Priti Gandhi on vocals and a dynamically made sound healing production with Dhyanjot and the Light Vibrations Gong Ensemble.  Interweaving live and production makes for a most effective streaming for sound healing that is improving each time.  
This event is via zoom live.  Good computer speakers or quality earphones or headsets for best sound is recommended.  After signing up you will receive an email with instruction, zoom meeting ID, and password.  If you haven't used zoom it is easy as just opening an account with user and password and putting in a meeting ID and password.  
And thanks again for supporting the healing arts at this time. It is much appreciated as we continue to grow together and in support for each other during this time as we begin to move forward into the unknown.
What to bring if you have it:
 It is nice to create your own heart shrine for the event:
-Suggested Colors to wear: White, Yellow or Gold
-Charge your favorite crystal associated with the heart chakra such as green or pink calcite, rose quartz, aventurine, or Gaia stones or crystals.  In addition, a nice grounding stone is a good idea such as shungite.
-Bring some water to charge. Best to drink 1 hour after the session and add a few drops of Vitamin D and maybe a powdered vitamin C.  
-Bring your favorite calming essential oil such as lavendar or cedar. 
-Be prepared with all the comforts of blankets, padding, pillows and a bolster/chair to sit on for the opening ceremony, intention and meditation 
This sound healing journey includes intentions based on the planetary arrangement in the sky (Vedic Astrology):
On Friday the Sun, Mercury, Venus (retrograde) and the Moon will all be in Taurus while Jupiter, Saturn both retrograde in Capricorn. Taurus who strives for balance and harmony, is ruled by Venus, and the world of duality and the human experience. This will be the beginning stages of Venus sorting things out while she joins the Sun to help re-establish our individuality in relationship to the joy that comes with being human. Mercury and the Moon are also in the same house/sign of Taurus helping us redirect our emotions to effectively express how we all can come together again in joyful, loving, and peaceful existence while still living life filled with inspiring artistic potential.
These four planets all in one sign is called a stellium (3 or more planets) and is teaching us all to live in harmony even when there is uncertainty. Four planets in Taurus while two planets retrograde in Capricorn helps us also realize that you are safe and secure even when you are not in control of the cycles of life. This four planet combination the Sun, Mercury, Venus retrograde and the Moon is so powerful that it will likely burst open up the creative potential and artist in you. So take some time to be with this powerful new moon and explore its potential of its passionate fire.
The New Moon in Taurus is in the area of the sky called the Nakshatra Krittika. 'Krit' means to cut and 'tiki' means to challenge. So you may find yourself or others challenging each others individual position even more at this time as the variety of half truths from science and emotions converge. Krittika is considered fierce or even destructive where it consists of 6 visible stars and one invisible. Some consider Krittika the potential of the Sun or Agni. Agni is the god of fire and the acceptor of sacrifices. Any sacrifices made over the short or long term are communicated to all the devatas to be reconciled. Agni, the fire god is like a powerful pillar of light that converges to dissolve all untruths and confusion so that all can live in harmony. But with fire there is destruction and a transformative energy that must occur to get to the other side of the conflict. When you can tap into the sacred fire and burn away all the confusion of the mind, then all that is left is ashes and ashes is an opportunity to re-begin your journey.
Agni also represents the seven flames or levels of consciousness. To stabilize this fire is to manage the emotions related to the seven flames of the intellect and transform them into one single pillar of light that can inspire us, uplift us, and give us hope for something greater and more beautiful internally even when we can't see it.
Also taking part is Jupiter and Saturn retrograde bringing forth a reflection of the truth knowing that you can trust in your inner wisdom if you stop and look deep within yourself for the answers that are true for you.
Last but not least Mars is in Aquarius ambitiously taking courageous action with the flame of transformation using outside the box science to collectively create the vision for the future.
Friday May 22nd, 2020
7 pm-9 pm
Virtual Waiting room opens at 6:30 pm
This is a sliding scale Donation event
Please support the sound healing arts at this time
Minimum Donation: $11 for each person in home attending
Uplifting Donation: $15 each
Generous Donation: $20 each
Grand Donation: $40 each or couples/families
You will recieve notification of sign up and also an email with password and meeting ID.  Please show up to  event a minimum of 10-15 minutes prior to start. Enter the log waiting room for check in to the event. This will help us keep the session starting on time.  Remember use good head phones or add speakers to your computer or phone to maximize the experience.
Light Vibrations Gong Ensemble is led by Gong Master Dhyanjot. Each meditation and healing session is inspired, created, and choreographed based on the universal planetary arrangement of the day (Vedic Astrology) making each session unique and special.  
This session includes either shamanic or other yoga nidra(sleep) methods to help one relieve stress from the body and mind and move into a heart felt transcendental healing state in preparation for a deep sound healing massage.  One comes out of each cosmic experience feeling blissful, inspired, insightful, and recharged.  
Dhyanjot is a sound healing musician and is trained in Qi Gong, Tai Chi, Nada(sound), Nidra (sleep), Hatha, and Kundalini yoga. He is founder and lead trainer for Integrated School of Yoga and Sound Healing.  His openness to all paths of yoga and healing, without dogma or religion brings a neutral and very approachable energy to the experience.  He gives all participants the opportunity to move outside their comfort zone to explore a variety of successful techniques from credible spiritual traditions that maximize the sound bath integration for dynamic and profound insights and healing.  Each journey may include gentle movements, chanting, and meditations to maximize the energy potential of each sound healing.
More about Sound Healing Meditation
Come explore how each sound you make and every sound you absorb effects your physical and emotional well being. 
What to Have for your experience:
Feel free to bring any small object that helps embrace or channel energy such as crystals, stones, or clothing.  Also have a yoga mat, your favorite blanket or something comfortable to lay down on for a minimum of an hour.  The more comfortable you are the more powerful will be the experience.  For virtual experiences it is best to have high quality head phones. Keep an open mind and heart as each session is a new exploration and a new experience. 
Where are the stars aligned: Each gong immersion includes planetary gongs that are arranged and positioned in such a way to support your energy based on the location(Vedic Astrology) of the planets in our solar system on that given day. Gong immersions will include from 10-14 gongs along with other instruments, isochronic rhythms, mantras, meditations, and movements that will support your journey of consciousness and healing.
Your Shamanic Sound Healer: Dhyanjot aka Swami Yog Pathik  :  Gong Master Trainer, percussionist, and Yogi.  Dhyanjot teaches weekly yoga classes, monthly sound sessions/gong immersions, quarterly nutritional cleanses, and is lead trainer at the Integrated School of Yoga and Sound Healing.  He uses special techniques including Reiki, Shamanic Ritual, Shakti activating, and Shiva transforming practices along with Vedic astrology to channel the most auspicious energy for each session to maximize the support and effectiveness of each experience.  Each session has a planned uniformity but is open to spontaneous adjustments to harness the energy potential of any given experience.  Dhyanjot's main influences are Krishnamacharya, Yogi Bhajan, Osho, Dr. Joseph Michael Levry, Parmahansa Yogananda, and Satya Sai Baba. Each sound session includes an array of planetary gongs and other instruments of sound healing. Dhyanjot also offers private gong lessons, Mastering the Self Counseling, and Light and Sound Healing in his private studio.
The light vibrations gong ensemble includes percussionist and healer Joel Koch and special guests who are musicians, mystics, healers, singing bowl specialist, and gong specialist who have been formally trained.  Dhyanjot also trains and apprentices those who want to take a journey with the gongs.
Dhyanjot also invites guests, friends and students who have received certificates from his school of yoga and sound healing.
What makes a sound alchemist and gong master: Through years of training, teaching others, playing (it actually plays you), and facilitating sound healings where the gong plays through the master and the master is able to listen, understand and interpret what is being played through the cosmic channels that are created during the experience. The master must understand the planetary arrangement in the sky and how it relates to the each planet in the gong ensemble and then be able to interpret the language from the octaves being channeled through the gong vehicle or vehicles which express the sound. The more gongs the more challenging the interpretation. The more calibrated or precise the sound instrument the clearer the message.  Each gong is a vehicle and each has a unique channel, place and communication that takes place during a session in relationship to the intention or invocation that is established as the canvas for the experience.
Gong Training Certifications available: (Privates Only)
Level One: Gong Fundamentals (3 privates)
Level Two: Gong Alchemy (4 privates)
Level Three: Gong Mastery Apprenticeship (3-5 years of lessons, guidance and play)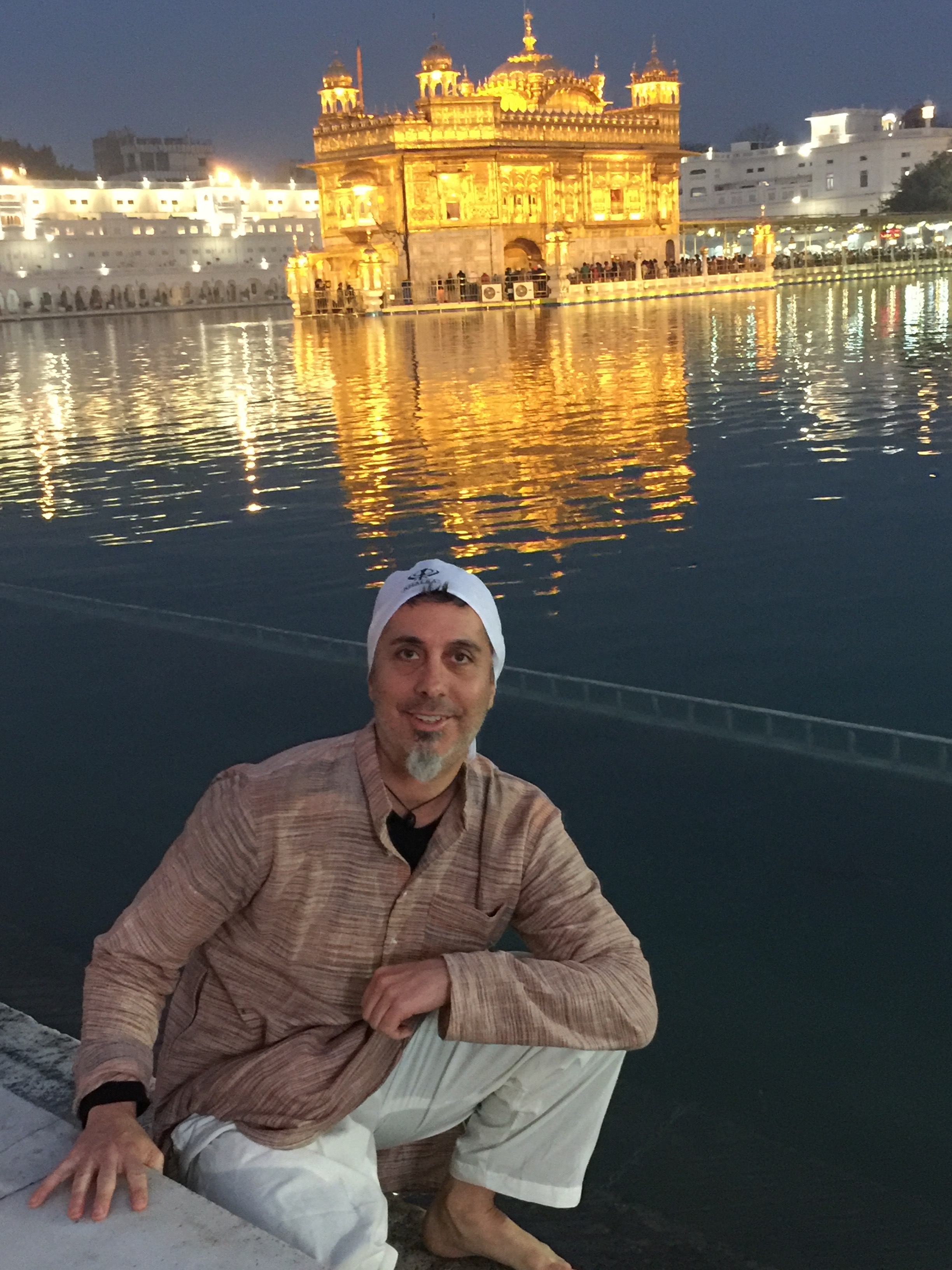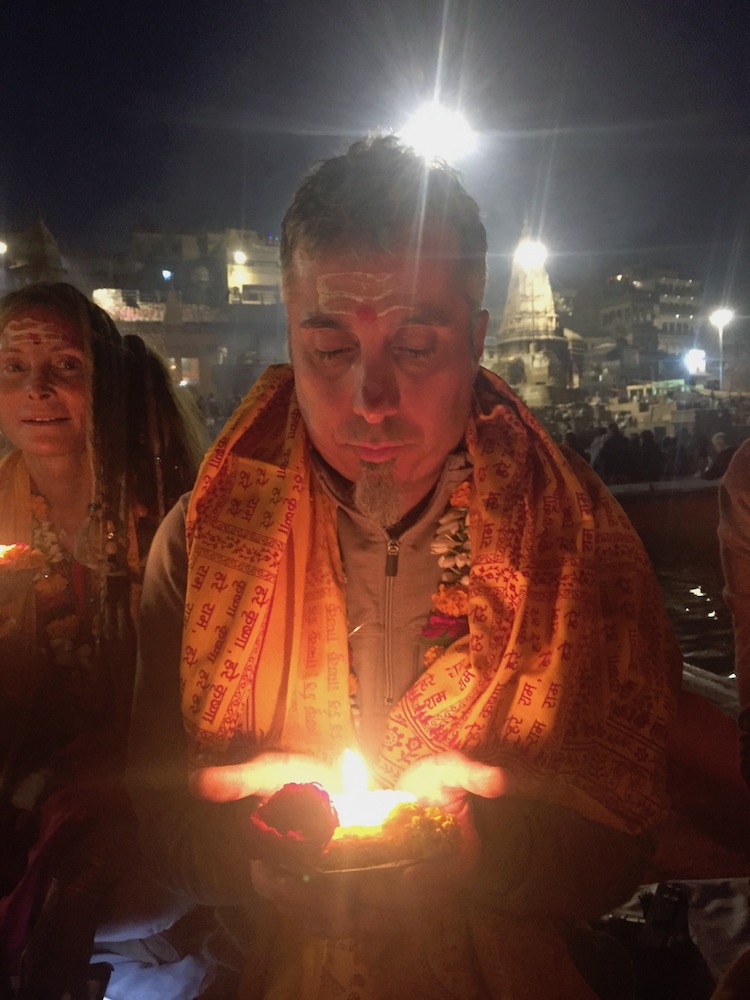 Hi, I'm Dhyanjot. This website offers information into my yoga classes, sound & light heal­ings and mas­ter­ing life ses­sions designed to help peo­ple live pain free, pros­per­ous lives.  In addition, I facil­i­tate nutri­tional health cleanses, vibra­tional heal­ing work­shops, gong immer­sions for deep heal­ing and I am avail­able for holis­tic health and life coach­ing.
© 2012 Integrated Wellness SD / JotYoga.